💛 THANK YOU for supporting our heart filled Family Business.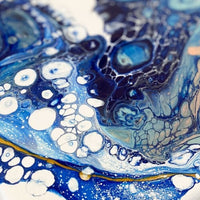 FLUID ART WORKSHOP
Regular Price

$165.00

Sale Price

$165.00

Regular Price

Unit Price

per
Tax included.
Shipping
calculated at checkout.
In this Fluid Art Masterclass Workshop, artist Saskia Malwina will equip you with all the knowledge and technical skills required to create an effective acrylic fluid abstract. This workshop explores the fluid styles achievable with a thinner ink-like consistency.
Students will be taught the process, unique techniques and science behind the exciting cutting edge 'high flow' acrylic paints and artist-grade pouring medium. In a fun, supportive and creative environment students will learn to vibrantly express themselves in the abstract realm. Key compositional skills such as the use of colour, balance, positive and negative space are taught to students, under the experienced guide of a professional Artist.
The workshop will start with an introduction to the style covering the painting basics, composition, pigment weights and colour theory, accompanied by an information booklet,
After the introduction a series of demonstrations will be conducted explaining step by step the practical techniques required to create each unique effect.
The effects include, creating various cell styles, tree ring pour, string pulling, marbling, swipe and blow torching. Students will paint three canvases during the workshop to collect when dry.
The result is breath taking, unique artworks that are both artistically striking and finished with an archival level of quality.
PLEASE NOTE: Your finished pieces will require a drying period of 24hours so will need to be collected after this time from the studio, or we can ship it to you for $20 (payable on the day). 
This is an adult open age class but is suitable for age 12 plus and no previous experience is necessary however children under the age of 14 must be accompanied by a participating adult.
All materials and light refreshments will be provided.
***********************
STUDIO ADDRESS: Studio 4102 N.O 4 Daydream St Warriewood, NSW 2102.
GROUP BOOKINGS: For Bookings of four or more people on the one booking, please use the promo code GROUP10 for a 10% Group Discount.
TERMS & CONDITIONS:
Your space in a class is reserved only once full payment has been received.
Our workshop tickets are non refundable, but if you are aware you will be unable to attend, you may pass your ticket to someone else you wish to come in your place.
In the event you forget to come or you are unable to attend a workshop, the ticket is non transferable after the event.
Please see our full Terms and Conditions here.
Whilst arriving, attending and leaving the workshops, it is your responsibility to ensure that you maintain and adhere to all safety precautions and requirements during the workshop. Little Lane workshops and the attending creatives hold no personal liability or responsibility for any damage, loss or theft incurred to personal property, or any physical injuries obtained during the workshop. By attending a workshop, you agree in holding full responsibility and liability for any damages, injuries to parties involved and physical and/or personal property that may occur during the workshop.
By attending a class, you agree that you will not reproduce, replicate or redistribute any element of the class or materials provided or content from our website or social platforms in part or full for personal or commercial use.
ABOUT YOUR TEACHER

Saskia Malwina is a multidisciplinary creative with a background in visual arts, health education, and coaching, as well as wearable art design. Her artistic journey, influenced by a nomadic lifestyle, has been deeply connected to nature and has taken her to various breathtaking landscapes. After a life-altering near-death experience in 2021, she developed a passion for the healing power of art. She pursued an Advanced Diploma in Creative Arts and Health, which led to scholarships, awards, and grants. Saskia's art reflects her life experiences, often capturing interactions with animals, dreamscapes, and nature's moods. She works with various mixed media and is known for her wearable art label, Sunfox Collective. She has extensive experience working with NDIS and disability services, teaching art courses, and participating in diverse artistic expressions.